English Intermediate course - B1 /
from € 285.00
"I can speak and understand English quite well and can use basic tenses but have problems with more complex grammar and vocabulary."
What you want

Intermediate English is an ideal course for those wishing to continue developing their language skills in English. Whether it's for your career or personal development, continued practice is essential for learning any new language.
What you can expect
The course provides 22 contact hours throughout 11 weeks. During this time, we focus on offering a dynamic and student-focused learning environment. These 11 weeks will also allow the learner to immerse themselves in the language while having fun!
This is achieved by providing the following elements in our courses.
vocabulary
listening;
grammar;
writing;
speaking;
reading & comprehension;
In-class activities
At a B1 level you can:
Understand the main points of clear standard input on familiar matters regularly encountered in work, school, leisure, etc.
Deal with most situations likely to arise whilst travelling in an area where the language is spoken.
Produce simple connected text on topics which are familiar or of personal interest.
Describe experiences and events, ambitions and briefly give reasons and explanations for opinions and plans.
What you get
After successful completion of the course, you can breakthrough to your next language level. And to top it off, you get an B1 language proficiency certificate defined by the Common European Framework of Reference (CEFR).
Course stages
| English Intermediate A | English Intermediate B | English Intermediate C |
| --- | --- | --- |
| B1.1 (stage 1) | B1.2 (stage 2) | B1.3 (stage 3) |
| 11 weeks / 22 hours | 11 weeks / 22 hours | 11 weeks / 22 hours |
| € 285,- | *€ 285,- | *€ 285,- |
| Course book € 45 | | |
*If you re-register directly after your first course you will receive a returners discount on the next course / Course books are not included in this price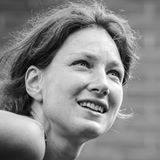 Lydia Evers
"I very much enjoyed my course at CBE. I found the atmosphere very warm and friendly which always made me look forward to the next class"
Jiyoung, English student 2010-2013
"I have studied English for 3 years in CBE with lots of fun and joy. It was lucky for me to learn English from great teachers who have great teaching skills and rich experiences"
Alex Wiersema, Dutch student 2014
"Open, friendly and kind. The best way to feel comfortable in a learning environment!"