Walking courses - all levels /
from € 49.00
1-1 Walking courses
How does it work?
Before the course, you will have an online intake with one of our experienced language trainers. During the intake, they will assess your needs and goals for the course and we will create a bespoke plan for you.
On the day of the lesson, you'll meet your teacher at the designated meeting point* and begin your walking and talking adventure!
Walks can be taken in the morning, during your lunchbreak, mid-afternoon, or in the early evening - depending on the schedule you arrange with your trainer.
Costs
To work toward a specific language goal, we suggest booking a course of sessions, though you are also welcome to book one-off walks.
1 x 45-minute session = € 49
Course of 6 x 45-min sessions = € 275,-
1 x 75-minute session = € 78
Course of 6 x 75-min sessions = € 445,-
How can I register?
You can register here and one of our teachers will contact you for the assessment and answers any questions you may have.
To complete the booking, you just login and purchase the number of sessions you want.
As courses are 1-1, the start dates are flexible – just let us know when you wish to begin!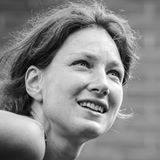 Lydia Evers
"I very much enjoyed my course at CBE. I found the atmosphere very warm and friendly which always made me look forward to the next class"
Jiyoung, English student
"I have studied English for 3 years in CBE with lots of fun and joy. It was lucky for me to learn English from great teachers who have great teaching skills and rich experiences"
Alex Wiersema, Dutch student
"Open, friendly and kind. The best way to feel comfortable in a learning environment!"